Madison East High Aviation educator lived to help others, some into the air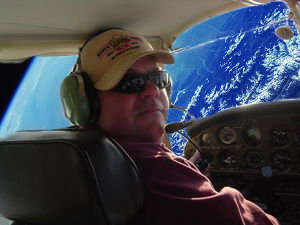 I am very sad to have learned that my friend, Kjell Erik "Da Swede" Anderson, suffered a massive heart attack this morning (September 10, 2012) and passed away, at school here, in Madison. He was 51.
Erik taught Aviation and Band at East High School and Sherman Middle school in Madison, carrying on the proud tradition of educating area youth about aviation.
That was his dream job, but he also taught music in the Milwaukee schools for many years. Regardless of his focus, he always was trying to help young people excel, achieve, succeed, or just survive.
I have known Erik since 1994 when we met through our shared passion of aviation. We both belonged to the Experimental Aircraft Association and bonded through its many activities including it's annual fly-in convention in Oshkosh, WI. To Erik I was a friend, roommate, flight instructor, nuisance, and source of laughter; mostly through my actions.
Erik was from the "Milwaukee school", which means he was inherently creative in the mechanical sense. He loved to weld, work on small engines, or just work to make some hopeless pile of machinery run again.
When I met him, he lived on the northwest side of Milwaukee, just blocks from our mutual friend, Bob Lang who was building an RV-6.
Bob started the project two years prior, and as the years went by, Erik became more and more involved. Erik would move to Waunakee in 2002, and Bob to Lodi a year later. Of course the still unfinished airplane went with them – parts of it landing at both houses. I'm not sure how many aircraft projects Erik started in his life, but I know his pride and joy is the RV-6 he built with Bob.
[jwplayer mediaid="1970″]
The first flight of N953BL was in January 2012 at Sauk Prairie Aiport. Courtesy: Gordon Smith
The aircraft flew for the first time earlier this year and made its Oshkosh appearance this past July, which is the penultimate moment for any aircraft homebuilder. The other half of his self-titled "Swedish Air Force" is his Piper Comanche, which he acquired a few years ago.
Erik's other indelible passion was music. He played mainly accordion and trumpet, but he could play it all. He taught music for 16 years in the Milwaukee Public Schools.
He also played in several local and regional bands including the famous Alvin Styczynski TV and Recording Orchestra (Pulaski, WI) as a trumpet and accordion player and Johnny on Washday, which included his brother Jon on saxophone.
Erik's Weapon of Musical Distraction (accordion) was featured each evening on EAA Radio during The Traffic Jam, and on some nights in the EAA Campground each year during the Oshkosh convention. His music amongst our group of friends was so appreciated that every wedding, birthday, retirement or other friend-based gathering that was proposed, was always followed by, "…and Swede can bring his accordion."
Related: Tribute from friend and mentee Joe Coraggio
One of my favorite yearly musical memories is the New Years Eve party held at Erik's friend Gordys' house, in Racine. It is a marathon of food, gallons of beer, Jagermeister, pranks, a hot tub, and music. Erik, his two brothers (Jon and Nils), and Gordy would bring out their instruments and play for the guests. It kept us all warm in spirit until it was time to light off the fireworks out in the snow, and then sit in Gordy's hot tub until 5 a.m.
Fun aside Erik lived his life for his students, whether they were into aviation or not. He was always involved in their lives, and he was the kind of teacher kids stayed in-touch with, long after they had moved on.
In 2001, Erik landed a dream job teaching aviation at Madison East High School. East's Aviation program had been in existence for decades and was nationally known, sending many kids to college with a head-start on their aviation studies.
I was one of those kids who graduated from the program in 1991 under the previous teacher and founder of the program, and was very excited to see the curriculum continue to be offered to area students, especially with my friend at the helm.
Related: Tribute from friend Craig Henry
Erik, of course, wove himself deeply into to the fabric of East and its students, participating in many of its events and playing in the Pep Band with the students during athletic events. For a time, he also played with the student orchestra.
I often spoke in front of his Aviation classes, and would meet many of Erik's students. They were typical young people, some were motivated – some were not, but Erik always found a way to get them to achieve.
Erik was a stout man and he moved at one speed, talked at one speed, and very little gets him to move off of that velocity.
While he may not win any foot races, or be heard above the crowd; he was just the right speed for the kids in his life. Erik had that ability to project calm to some and prod others to action, which is why so many of his students have said he was just the person they needed at a key moment in their life.
His impact was evident from the messages from current and former students on his Facebook page.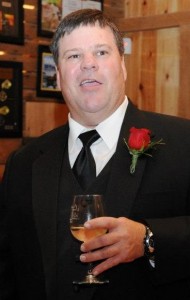 – Mr. A, I am going to miss the hell out of you. You kept me in line when I needed it most, and always pushed me to improve myself, both as a student and as a person. I'll never forget you. I love the hell out of you man.
– We used to jam to music, laugh at the craziest things. Make model airplanes and fly them through the sky, BTW you still owe me a real airplane ride :/. You were one that had a positive impact on every person you met. Not only to a great teacher, but an amazing friend, you will be forever missed
– Too many dying way too young, I thank you so much for being there for my sister many times, you were loved by many students….R.I.P. Kjell-Erik Anderson :'(
– You inspired the young minds of many students with your love for aviation and got us all inspired to want to fly. Today is the day you get you get your best set of wings, the wings of an angel. The sky's the limit. Thank you for inspiring me. RIP
Swede and Weasel

Erik "Da Swede" Anderson co-founded the then named EAA AirVenture Cup race with his close friend, Eric "Da Weasel" Whyte, in the mid 1990s. Its one of his lasting legacies as the air race is still held each year, celebrating innovation by homebuilders. Often there are 60-80 entrants which speaks to the popularity of racing ones own creation and the well-run competition event that Swede and Weasel have shaped over the years.
I last "spoke" to Erik about 12 hours before his death – through Facebook chat – as he was telling me of the emergency landing he had to make on Saturday in the RV-6. He was flying with fellow pilot, Eric Whyte, headed north from Madison when an oil line failed. Smoke started to fill the inside of the aircraft.
They declared an emergency and landed near Necedah, Wisconsin. The owner of a hardware store in town was also a pilot, and, with his help, they quickly got some parts, fixed the cracked line, cleaned up the airplane (the underside was coated with oil), and flew home.
From his Facebook post about the flight:
Had quite a day! For the first time in many (many) years I had to declare an inflight emergency. Just as we were commenting on the lack of emergency landing places in North Western Wisconsin the cockpit started filling with smoke. Turned back to the nearest airport at Necedah WI. Landed and found a big mess. Seems the oil line to the prop governor cracked at the fitting. Aviation as a whole is educational. But it is amazing how a bad situation can teach you so many good things.
1. That leatherman tool my little brother/sister in law gave me has saved me many times.
2. If you have a choice of emergency airports pick the one that "Good Morning America" is not filming at.
3. If you do declare an emergency on 121.5 one of your airline pilot friends at 34,000 feet may recognize your N number and voice, and be on the phone shortly after you are on the ground to make sure things are all right and offer help. (amazing)
4. All that training on emergencies does pay off.
That's aviation for you, always someone nearby to lend a hand as Erik had done countless times before for other pilots and their aircraft. What makes me the most happy is that his last flight was with his best friend. Knowing those two, I was only a little surprised by the story and not at all surprised by the outcome.
I can hear Weasel now, telling the story of the emergency landing at the campfire during Oshkosh next year. Weasel is a great storyteller and without his legendary embellishments, it is a story not worth being told. The oil line failure, the helpful controllers at nearby Volk Field, the helpful hardware man who got them parts and lunch for a total of $5, and of course flying home only hours later.
Yes I can envision it now…the Swede and Weasel flying home from Necedah laughing all the way. For once, it is a story in which I believe every word.
Related: Official Obituary of Kjell Erik Anderson
Related: Educator Erik Anderson Remembered During Hangar Service