Snowmageddon 2012 | Erik Anderson Memorial | Willy Street Fair 2012 – Sunday | Willy Street Fair 2012 – Parade | Willy Street Fair 2012 – Saturday | Retro Willy Street Fair | Orton Park Festival 2012 – Sunday | Orton Park Festival 2012 – Saturday | Live On King Street: July 20 | New 'Phalt on Ingersoll | Scenes from FruitFest 2012 | Drunk Driver Causes Mayhem on Willy | Madison Craft Beer Week | Eastside Farmers Market | US Airways Flight 1549: Miracle On The Hudson | All Galleries
Snowmageddon 2012
Images of the Wil-Mar and SASY neighborhoods during and after Snowmageddon 2012, December 19-21, 2012.
Top
Top
Willy Street Fair 2012 - Sunday
Top
Willy Street Fair 2012 - Parade
Top
Willy Street Fair 2012 - Saturday
Top
Retro Willy Street Fair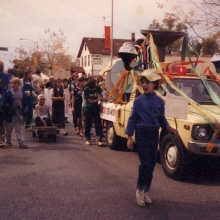 The Willy Street Fair Parade, circa 1985. An earlier incarnation of the Jim Wildeman's Bubblemobile still retains the iconic bubble smokestacks. The author is pedaling furiously in the homemade pedal car. Courtesy: Richard and Judith Guyot.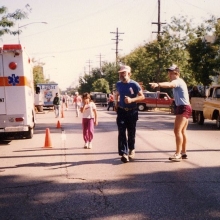 The Willy Street Fair Fun Run came and went over the years. Richard Guyot (left) and his daughter Samira finish strong in 1985. Courtesy: Fareed Guyot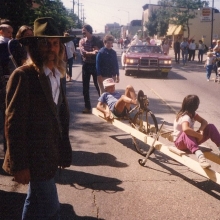 The parade is full of imaginative vehicles. This, the world's longest recumbent bicycle was created by Richard Guyot. The front wheels and chasis came from a riding mower. Courtesy: Richard Guyot
Top
Top
Orton Park 2012 - Saturday
Images from Saturday August 25, 2012 during the 47th Orton Park Festival. All photos by: Thomas Balistreri
Top
Live On King Street: July 20
Top
Top
FruitFest 2012
Fruit Fest is Madison's LGBTQI Summer Music Festival hosted in the Marquette Neighborhood in June. This year's event was held on June 16, 2012.
Top
Drunk Driver Causes Mayhem on Willy Street
A drunk driver fleeing police crashed into an apartment building, bakery, and at least two cars in the 1500 block of Williamson Street shortly after 1 a.m. Wednesday (June 6). The driver, Christoper M. Brunetto, 29, of Fairfield, Connecticut was injured but no one else in the buildings were hurt.
Top
Top
Top
US Airways Flight 1549 "Miracle On The Hudson
The Airbus A320 known as US Airways Flight 1549 at the Carolinas Aviation Museum.
Top