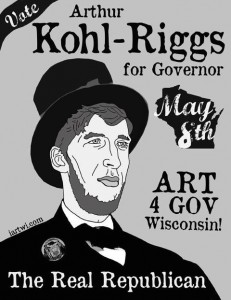 Arthur Kohl-Riggs, a local Madison filmmaker and journalist, has submitted 2,300 nomination signatures to run for governor in the upcoming recall election. Kohl-Riggs is against Scott Walker's policies but he has decided to fight back by running as a Lincoln Republican since he feels Walker, Paul Ryan, and others have brought a Joseph McCarthy-like "stain" on the traditions of the political party that was shaped by Lincoln.
The nominating signatures were submitted to the Government Accountability Board today (April 10) and if approved Kohl-Riggs will ensure that Walker will have a challenger from his party. Whether Walker even acknowledges Arthur's candidacy will lay bare the extent of his Hubris. Republicans have doubled-down on their arrogance and hypocrisy by once again running "fake" candidates in the democratic primary, the legality of which may be questionable. 
The difference of Kohl-Rigg's candidacy is his actual willingness to campaign and espouse the reasons for running, whereas the Republicans in sheep's clothing have indicated they will do no campaigning which only amplifies Republican cynicism.
Arthur has been a fixture on the activist scene since the Madison Spring protests began and rose to prominence last month when he was arrested in the Wisconsin Assembly gallery on a dubious pretense of possessing a camera when the rules only stated he could not use it; which at the time he had stashed under his sweater.
Arthur Kohl-Riggs released the following statement last week on his Facebook page explaining why he is running for governor.
"It is a huge honor for me to announce my official candidacy for Governor of our great State of Wisconsin against Scott Walker in the Republican primary. The decision was not made lightly. I believe that challenging Walker in the Republican primary is the most effective way for me to help facilitate the conversations Wisconsinites need to have in order to move our state forward. I hope to bring clarity and honesty, along with some much needed humor, to the rhetoric-heavy and substance-light political atmosphere. 

I plan on using my campaign as a platform to highlight the hypocrisy of Scott Walker's rhetoric. Despite the label of "Republican," Scott Walker and his administration have proven through their radical policies that Walker is way out of line with the values and ideals of the party of Lincoln. Wisconsin has a rich and inspirational Republican tradition, represented by role models like "Fighting" Bob La Follette. It is unfortunate that Scott Walker has chosen to ignore our traditions and instead perpetuate an atmosphere of animosity and division by drawing inspiration from the likes of Reagan and McCarthy. 
I also see a practical and strategic reason for running in the Republican primary. By ensuring that Walker has an opponent on the primary ballot I am encouraging his supporters to cast their vote for him, rather than voting to disingenuously influence the Democratic nomination process. 
With regards to concerns about the rationale and motivations for my Wisconsin gubernatorial candidacy, I fully understand your initial reservations. In no way is my candidacy a retaliation, direct or indirect, for the Republican Party of Wisconsin's decision to run fake Democrats in the upcoming recall elections. In my campaign, humor will serve as a necessary component to draw attention to the joke the current Wisconsin Republican party leadership has become, as exemplified by Paul Ryan, Scott Walker, Robin Vos and the Fitzgerald brothers. Their blatant disregard for the rule of law and the concerns of their constituency, coupled with their vilification of dissent, more closely resembles the political stain Joseph McCarthy brought upon our state than the core values upon which Abraham Lincoln's Republican Party was founded.
 My Republican candidacy will highlight the extent to which Governor Walker's policies fall far out of line with these values of fiscal responsibility, clean, open and limited government and honest representation. Additionally, my presence on the Republican side of the ballot creates incentive for Walker supporters to actually cast their vote for Walker in the primary, rather than succumb to the temptation to influence the Democratic nomination. Any hostility directed at myself or my candidacy is time and energy the Walker regime otherwise would have dedicated to smearing other prospective candidates.
In the next few days, I will launch my website and a new Facebook page that will hopefully shed more light on the intent of my campaign. As always, I will remain accessible and responsive to your feedback. The next step in my candidacy is the collection of 3,000 nomination signatures to ensure my presence on the ballot. If you would like to volunteer for the collection effort, please send an email to artforgov@gmail.com with a subject heading of "Volunteer." Thank you for your continued support of SSWIDTMS and I look forward to your support in the weeks ahead. 
If you are interested in getting involved please visit my website, www.iartwi.com, and "like" my facebook page Art For Gov. Any questions or concerns can be emailed to me at artforgov@gmail.com "