Solstice Festival Marks the Beginning of Summer in Madison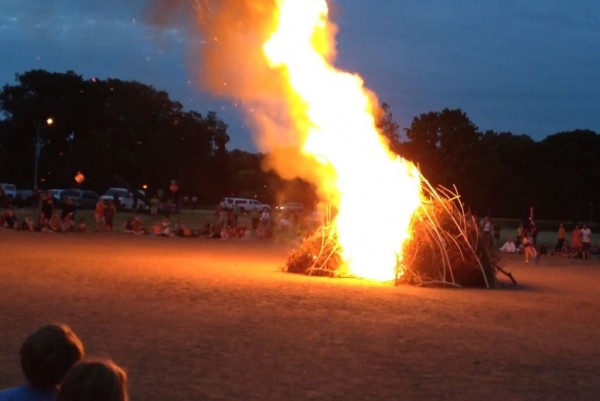 The 10th Annual Solstice Festival was held on the lake side of Olbrich Park Saturday (June 23) and featured afternoon and evening of events culminating in a bonfire at sunset. The solstice is primarily an astronomical event but also has varied cultural significance for humans.  The word solstice is derived from two latin words rammed together to basically state "the Sun stands still".
In the northern hemisphere it marks the sun's seasonal high point in the sky as the northern half of earth is titled toward the sun. June 20th marked the official beginning of summer but for some cultures and countries this is known as midsummer, like in England where Shakespeare's "A Midsummer Night's Dream" talked of the many wonders during this time of year.


In Madison the solstice, whether it be winter or summer, is a celebration of the earth. At the Solstice Festival hundreds attended the six-hour event that included canoe rides, hands on eco-science demonstrations, the Parade of the Species and a giant puppet pageant. Music was also prevalent featuring performances by local artists and dancers plus luminaries or hot-air kites released at sunset.
The final event was the Sunset Bonfire which was set up in the middle of the ball diamond and was lit by Linda Hedges "Mother of the Black Bear" because of the many costumes she has made for the festival over the years. In the video below she lights the bonfire after proclaiming to the crowd, "Let the fire burn!"


As the flames reach higher the drums begin to play and people dance around the fire. This continued for another hour as fire eaters, jugglers with flaming sticks, and dancers with lighted hoops moved around the fire. Attendees were encouraged to dance along. Luminaries were sent skyward into the perfect summer evening that featured comfortable temperatures and still air; perhaps a nod to the sun that was standing still above.

The festival was sponsored by many local business and a few key entities including the Schenk-Atwood-Starkweather-Yahara Neighborhood Association, Friends of Starkweather Creek, Madison Children's Museum and WORT-FM.