One Barrel Brewing hopes to involve patrons in the brewing process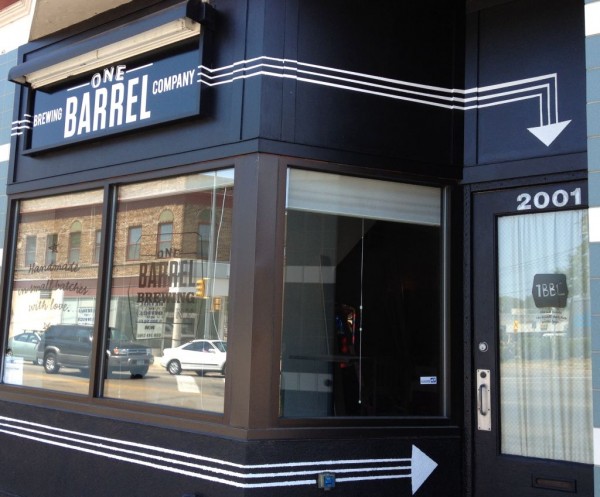 The word "Nano" is now a trendy way to describe something on a small scale. One Barrel Brewing Company, Madison's first nanobrewery, opened Friday (July 6) on Atwood Avenue in Schenk's corners, and hopes to embody this concept by offering small batches of experimental beers in the spirit of home brewing while making it accessible to all.
Photographer and Atwood neighborhood resident Nataraj Hauser was fourth in line for the opening and reports that it quickly grew to around 75 and soon the place, which was once a grocery store early in the 20th century, was packed with people. 
Nanobreweries are popular on the east and west coast and One Barrel Brewing owner Peter Gentry, 32, felt the concept fit his experience and beer making acumen perfectly. Gentry bought a home brewing kit about eight years ago so that he and his father could start making beer together at home. While it was an enjoyable experience for both it became more of a passion for Peter and he eventually moved the kit to his own place and began to experiment further.
"I like the variety. You can get so many varieties and tastes, you can get really high alcohol, you can get really low alcohol," Gentry says. "I guess you can say that about wine too but I don't see it as much. [With] beer you can go from really light which tastes like nothing to a super hoppy beer that tastes like you can't even deal with it."
Madison has a pretty strong brewing community both for home and commercial brewers. Gentry says that he got involved with the Madison Home Brewers and Tasters Guild which along with the folks at House of Brews have been helpful in his development as a brewer. By 2010 his Belgian Dark Strong, which is his favorite beer to make, had evolved enough to win honorable mention at the U.S. Beer Tasting Championships. It was time to take the next step.
"It's just a very robust community…you've got so many beer bars now… 10 years ago there was nothing…if you think about The Old Fashioned, they [serve] over 100 beers…the community is so knowledgeable and accepting of new ideas…[the variety is] not just in the number of brands but the number types of beers each brand carries." Gentry says.
After considering another site, One Barrel Brewing landed at 2001 Atwood Avenue where they have turned the space into a Wisconsin-style brew pub featuring a long hand-crafted bar made of Walnut, exposed brick walls and various seating options to keep things relaxed and conversational. Peter Gentry says most of the brewing will be done in-house in small batches but with an emphasis on creativity and accessibility to the public.
"We hope to have a really approachable beer bar in which we make the majority of the beer in-house and highlight different styles at different times."
In crafting his beers and sharing them with the public he is taking a cue from his upbringing near Orton Park. His father Jim Gentry had a woodworking business; and Peter hopes the artistry and small business experiences involved with that will inform his beer making and future plans to expand his operation.
One Barrel at a time
Peter Gentry arrived at the name of his brewery because at the moment he hopes to keep his operation simple, brewing one barrel at a time and have three original beers on tap along with other Wisconsin beers.
"I'm gonna get super experimental, I'm probably going to do a stein beer where you heat the liquid with hot rocks. I'm gonna do a chai-infused brown ale…you can use hibiscus flours in a saison. Because I'm brewing a small batch, honestly if it's terrible I can throw it out and I'm not out a lot of money."
One Barrel's native offerings will include: "The Commuter" a Kolsch – style session beer, "Peguin Pale Ale" – a middle ground beer, "Rx Poppin Pilsner", and "Strong Ale #2" – a super heavy dark Belgian beer featuring 10.5% alcohol content along the lines of Gentry's award winning Belgian from 2010.
"I can also focus on specific styles.  Like if I wanted to [a number of] stouts: coffee, sweet, oyster, oatmeal…and taste them all next to each other…and most likely I will be here to explain to you the differences….that will be the fun part."
Experimentation and agility will be the style since Gentry plans to brew five barrels or 10 kegs a week, two times on Monday and once on Tuesday, Wednesday, and Thursday. The one barrel will produce two kegs or 31 gallons using Blichmann kettles and associated equipment. Gentry calls the Blichmanns the Mercedes of brewing equipment, and will be located behind the bar so that patrons can see the process in action and talk to Peter while he is working.
"The goal is to be accessible…you can come in and learn about beer making…and I'll be learning too…it's a logical extension of what went on in my basement or other's basements," says Gentry who says it will just be a glorified home brew set-up. "There really is no difference…just a bigger kettle…a nicer kettle then I used to have. The pumps are bigger, the fermenting tank is bigger, and I gotta follow a lot more rules."
Neighborhood support
One Barrel Brewing is classified by the City of Madison as a brew pub, but as a commercial beer brewing operation Gentry had to also apply for state and federal licenses. He says the entire process went smoothly since he stressed to the licensing boards that being from the neighborhood, maintaining good community relations with the neighbors he has known all his life was motivation enough to operate an upstanding establishment.
One key person who assisted Peter in the planning stages was hospitality entrepreneur Hawk Sullivan who after growing up in the same neighborhood, has gone on to open several successful bars across town. Gentry says Sullivan shared business plans and offered wide ranging advice on how to open and operate a bar. For acting as a kind of mentor to Gentry he is planning to name a beer after Sullivan to honor his Irish roots.
"He's willing to give his time to me for free just to help me out…to see someone from the area do better and better."
If a coffee shop met a bar
Peter Gentry's path to brew pub owner was somewhat circuitous; he attended the University of Wisconsin – Madison and then roamed the country for a time, living in Los Angeles for about six months where he learned to surf; then it was onto Denver for a shorter stay and a lot of hiking before moving back to Madison. He then worked for the Wisconsin State Journal in media sales and also the Onion as a sales manager. Those last two stints provided great exposure to the hospitality scene in Madison and along with the encouragement of friends he began planning to launch One Barrel Brewing Company about a year ago.
In helping to open the brew pub, things have come full circle for Jim Gentry as well. He built the nearly 40-foot bar made entirely of Walnut that he found at a lumber yard in Monroe. The bar will be his last major woodworking project, his first being one he built 30 years ago. The One Barrel bar has a 24-foot main run, a 10-foot pivot around a barrel near the door and then another seven feet to the corner.
The pub space will highlight the attributes of the old building in which it resides, with exposed brick walls, two to six-place high top tables along with banquette seating in the front. Other accoutrements include a few bikes hanging from the ceiling in a nod to the biking culture of the city as well as a inert Vietnam-era practice bomb which was ordered from the internet. Gentry says he painted his green and stenciled it with "Strategic Beer Reserve" numbering.
Another popular term today is "scalability" and it would seem that Peter has the right philosophy as he grows his business from the basement to the pub and beyond. Several years from now Peter Gentry hopes to expand his operation with perhaps another location and/or increased production, with the goal of growing into the next Ale Asylum which is nearing the completion of an expansion of its own.
"It's really the same process…heating water, heating grain, boiling it, fermenting it, and serving it."
In addition to a wide beer selection, One Barrel will offer Wisconsin-style pub food including frozen pizzas from Frabonis, cheese plates, landjager, and pickeled eggs.
One Barrel Brewing Company's regular hours are Tuesday – Wednesday 4 to 11 p.m., Thursday – Friday 4 p.m. to 1 a.m., Saturday 11 a.m. – 1 a.m. and Sunday 11 a.m. – 11 p.m. (closing varies). Closed Mondays.