Stories from The Project Lodge Comedy Showcase Storyteller series
Early one Sunday I noticed a tweet from local Dane101.com writer Emily Mills that she would be appearing at The Project Lodge Comedy Showcase Storyteller show. Immediately my mind thought of The Moth in New York City where incredible stories are often plucked and spun nationally by the radio program This American Life.
Not sure what I was going to hear, I arrived at the venue on East Johnson Street, paid the very reasonable $2 admission and found a seat up front. I left filled with stories about pot-laden midnight drives through Oklahoma, horrifying Burger King experiences, a forgettable mother-daughter trip to Egypt, and a touching narrative about one woman's first hand job. 
I was greeted by Chris Lay who partners with fellow comic Jay Abbondanza to run the comedy showcase each Sunday evening at 7:30 p.m. Lay, who hosts The Madison Podcast with his friend Eric Reinert, started off by explaining the theme of the night "One more chance" by relating a story about his own sports ineptitude as a child.
He then yielded to local comic Matt Lind who told of attending a christian school and realizing he was an atheist. Matt did a fine job pivoting from funny to serious in talking about how that shaped his experience with diabetes later in life.
Other storytellers appearing on stage were Lay's podcast partner Eric Reinert who told of a never-ending break-up while model Amanda Lanyon-LeSage, also known as Daisy Chains when she takes the stage with the Peach Pies Caburlesque, told a yarn about whether foregoing a sweet sixteen party for a trip to Egypt with her mom was the best choice.
Chris and Jay are pretty busy guys around town. Chris has been doing shows in Madison for the last year and a half he hopes the Sunday shows help highlight the Madison comedy scene.
"The goal of our Sunday shows is to highlight the comedy scene here and present it as something that's on par with the other performance arts in Madison. There are dozens of shows like ours in New York and Chicago and this is the first one to happen in Madison."
Jay Abbondanza got his start in New York and Florida around nine years ago and in addition to doing standup, is a blogger for reveriehound.com. He also hosts "The Method Behind the Madness" podcast , which features brief sets from four or five comics then Jay joins them on stage for a half interview and half comedy jam session. Chris and Jay will soon be launching a new podcast "Happy Sad Things".
The ProLoCoSho series features comedy every Sunday night. First Sunday is The Method Behind The Madness, second and fourth Sundays are standup, with around eight comics, mostly form Madison but occasionally from Milwaukee and the third Sunday is the Storyteller show. This weekend (Sept 16) will be the last Storyteller show at the Project Lodge. ProLoCoSho is moving to the Atlas Improv space at 609 E Washington Avenue in October.
The Storytellers
Comic and Green Bay native Adam Waldron (@FindWaldoNow) could have started his story, "Four comics walk into a bar…"; he explained that comics and a hot-headed Russian with a language barrier is a bad mix, especially when he's blocking the TV.
First-timer Stacy Kulow, nervous about telling her story, excused herself for having to look at her spiral notebook from time to time where she had written out her entire story in longhand.
It turns out she didn't really need her notes, because her comedic timing and expressions were excellent. I didn't know a story about someone's first hand job could be so sweet, poignant, and heart-warming, but Stacy made it so. She took the audience through some of her first and second base encounters and the futility she felt, even if it probably was undeserved.
Stacy didn't give permission for me to post her story as the names have not been changed to protect the innocent. Maybe she'll have a ready-for-prime time version in the future because the content and her theatrics scream for her story to be liberated from her notebook.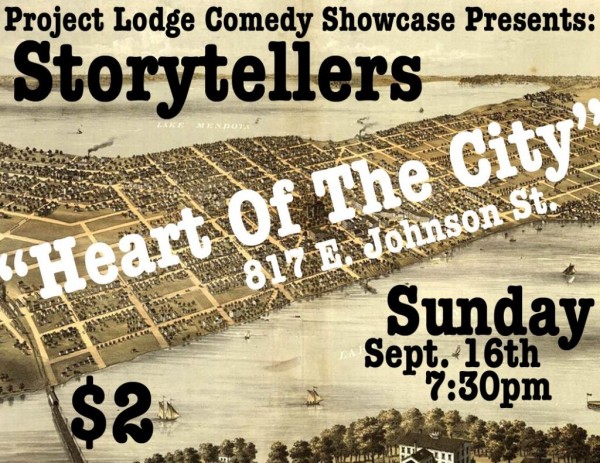 The final story of the night came from Emily Mills (@millbot) who is pretty busy around town as a freelance writer, activist, and musician serving in the band Little Red Wolf. With her remaining time she is a photographer and actor, but is mostly known for her reporting at Dane101.com.
Emily is the daughter of a minister and has lived a few places growing up; but she starts her story in her teenage years, when she was living in Oklahoma. She finds herself at a pasture party involving a bonfire and a boy named Adam, who she liked, and he had a joint. But the trouble didn't start until the drive home…here is Emily Mills.
Editor's Note: We have a whole recorder full of stories from this show and more. Watch for more stories to be featured in the future. If you have literature, spoken word, radio story,  art or other project, please let us know about it.