Facebook page launched to boost interest and donations
Driving west on John Nolen Drive sometime in the future motorists will round the corner onto Williamson Street and behold a tall metal sculpture in the form of a tree. The Williamson Gateway Sculpture will be located on the median at the west end of Willy Street as a greeter for the Marquette Neighborhood. 
The project is part of the Marquette Neighborhood Association (MNA) Art and Culture Committee's Public Art Concept.  Working in conjunction with the Madison Arts Commission, the Committee has been pursuing several art projects in the neighborhood since 2011 including Poetry in Sidewalks, Historical Markers, and Murals on Private Property. The latest mural project debuted in July on the side of the Willy Street Co-op East, painted by Brazilian graffiti artist Panmela Castro.
The Gateway Sculpture is probably the Committee's most ambitious project yet. The all metal tree will stand 32 feet-tall and 18 feet-wide, and will be built by metal artist Erika Koivunen.
Erika is known for many projects around the area including art on private property and in public spaces like the park benches at B.B. Clarke Beach.
Erika assisted Doc Evermor (Tom Every) in creating Dreamkeepers a.k.a. "the big metal birds" (seen in the banner at the top of this page) on Paterson Street at the Capital City Trail, a project that helped inspire her to expand her own art into metals.
The Art and Culture Committee is working with the community to raise the estimated $60,000 needed to complete the project. The City of Madison (through the arts commission) is pledging $12,600 but an additional $30,000 in private funds needs to be raised to secure the funding from the city.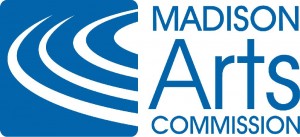 The Marquette Neighborhood Association has contributed approximately $17,000 to the project through the Association's Waterfront and Orton Park festivals according to long-time festival organizer Bob Queen .
Another  fundraiser at the Crystal Corner Bar is scheduled for March 14, 2013.
A Facebook page for the sculpture has been created to provide updates about the project. Donations can be mailed to the Marquette Neighborhood Association or online through PayPal. Donations are also being accepted at the Willy Street Co-op East. Look for the tall metal box inside the store near the exit.
By Mail:
Marquette Neighborhood Association
PO Box 3223
Madison, WI 53704
Ref: Gateway Sculpture
 Editors Note: The cost and fundraising figures have been updated/corrected