Weekend event kicks off summer festivals in Marquette neighborhood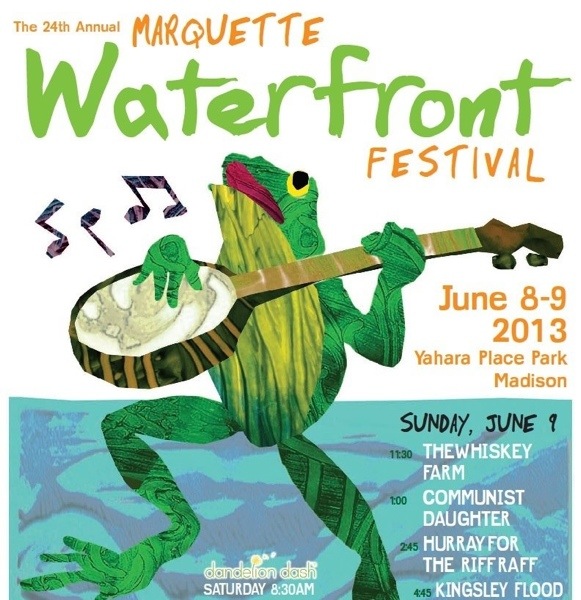 Last year summer started in March, this year we are not sure if its going to make the June 21 deadline. Needless to say this will not stop the summer festival season from beginning with the Marquette Neighborhood Association's Marquette Waterfront Festival this weekend (June 8 and 9) at Yahara Place Park.
The festivities will begin early Saturday with the Dandelion Dash, a fun run with various distances, culminating in the dash involving the youngest runners making 100 yard scamper. The 5K race is open to all while there will be two heats for the Dandelion Dash; one for children 6 to 9 years old and one for children 5 and under. See after the jump why this last race can not be missed.
Dandelion Dash 2012 – 5 and under Race
The 6-9 group will race at 9:15am, and the younger group after. The cost is $1, and all runners get a Dandelion Dash ribbon and a coupon for ice cream at the Waterfront Festival.
The 5K race begins at 8:30am. Registration for the 5K is $5 and can be done online at www.athenstoatlantis.com or on the day of the race beginning at 7:15am. Proceeds from these races support neighborhood programs including the Eastside Express Summer Camp and grants for innovative projects in our schools. For more information or to volunteer email: katherine_davey@yahoo.com.
Other featured events include the Canoe Race at noon on Sunday where anyone can participate as all will be grouped into various heats based on anticipated performance. Prior to the race will be the "Fools Flotilla" a parade of various watercraft, some ornately decorated.
The ever popular volleyball tournament will be held on Saturday bringing a mix of talents. Expect to see many of your usual foes from area bar leagues. The Crystal Corner will operate two beer gardens which will also include a selection of wines, plus chilled mead from the Bos Meadery.
MNA will be selling soda and water and a wide range of popular neighborhood restauranteurs be selling food. Kids games will be available from Noon to 3 p.m-ish thanks to Boy Scout Troop 34 and Cornerstone Carriages will be offering hay rides both days in the afternoons. You can also count on the ubiquitous festival activities of face painting and caricature drawing.
See the entire list of Waterfront Festival events here
It wouldn't be a neighborhood festival without music and the line-up continues to get more comprehensive each year. Saturday will have a world beat bent with groups like Fareed Haque and the Flat Earth Ensemble and Grupo Fantasma along with local favorites Tani Diakite & The Afrofunkstars and the foot stomping precussion party known as The Handphibbians.
Sunday features more traditional acts beginning at 11:30 a.m. with The Whiskey Farm, New Orlean's Hurray for the Riff Raff and more foot stomping from the MarchFourth Marching Band from Portland, Oregon.
There are plenty more musical acts than listed above and does not include the many street musicians that are likely to add their own artistry to the event.
See the full Waterfront Festival music lineup here

The Waterfront Festival is a neighborhood event and fundraiser for the Marquette Neighborhood Association. Proceeds fund the many programs and activities that support its core missions of neighborhood beautification, sustainable living, investing in our youth, and communication and education.
The Handphibians during the 2012 Willy Street Fair Parade