Medical clinic, library branch and housing part of new development
The City of Madison and Gorman & Company of Oregon, Wisconsin have signed a Letter Of Intent to proceed with developing Union Corners. District Six Alder Marsha Rummel announced the successful negotiations with Gorman to purchase the City-owned property in an email to constituents. When completed the development will include a health clinic, Madison Library branch and 50-100 housing units.
Rummel, whose district includes the Union Corners property, will introduce a resolution approving the Union Corners Selection Committee's recommendation of Gorman & Company as the developer and authorizing the City to execute a purchase agreement for the property in the sum of $1. 
The project will commence in four phases, the first being a 60,000 square foot University of Wisconsin Health System medical clinic with parking. Phase 2 will feature 50 to 100 residential units with parking, Phase 3 and 4 may include a public library branch, more residential units, other retail spaces and of course parking. The last two phases may be developed out of order based on market conditions.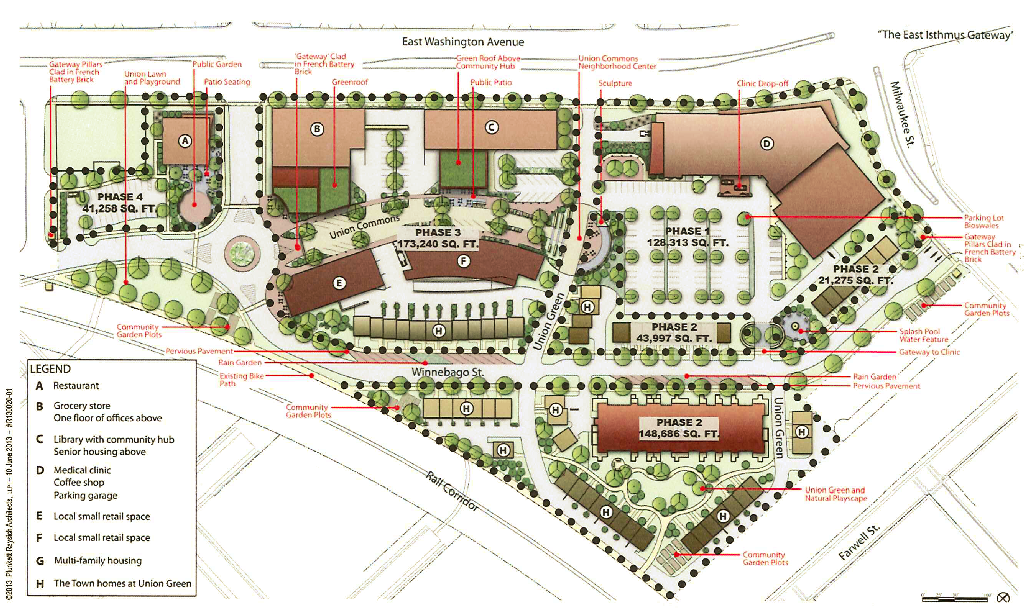 Per the agreement the developers must demonstrate the entire project requires $6 Million in Tax Incremental Financing (TIF), provided by the city, to earn the public assistance. The LOI notes that Phase 1 may be developed without the financing. At the time of closing Gorman must have a signed lease for a medical clinic tenant and secured through private financing at least 15% of the cost of the entire project.
Read the LOI here
The push to develop the site has been going on for a decade starting with McGrath Associates which had an approved plan with neighborhood support for mostly residential buildings in 2004 but the economic downturn derailed the project by 2007. Union Corners had been dying a slow death for decades as businesses struggled to exist on that corner and Ray-O-Vac's manufacturing plant faded away. In 2010 the city purchased the site for $3.57 million and issued an RFP in June 2012.
Four developers and one community group submitted RFPs but one by one before the committee took any action each of the groups dropped out until only Gorman remained.
"My thanks to all the stakeholders who worked for so many years to create a new Union Corners neighborhood!" Marsha Rummel said in the email.
The resolution to be introduced by Rummel has a few stops to make before the Common Council. It must be approved on July 8 by the Board of Estimates (4:30 in Room 260 of the Madison Municipal Building), and the Plan Commission (5:30 in Room of the City-County Building) as well as the Economic Development Committee which has not set a meeting on the matter.
Assuming all the hurdles are cleared the Common Council could adopt the resolution as early as July 16.
Related: Where The Sidewalk Ends
Related: C.D. Smith / EUA Withdraw Union Corners Proposal
Related: Nostalgia or Sizzle for Block 800
Related: Gehbardt Proposal Selected for Block 800