Paint and then patrons only left for new late-night pizza establishment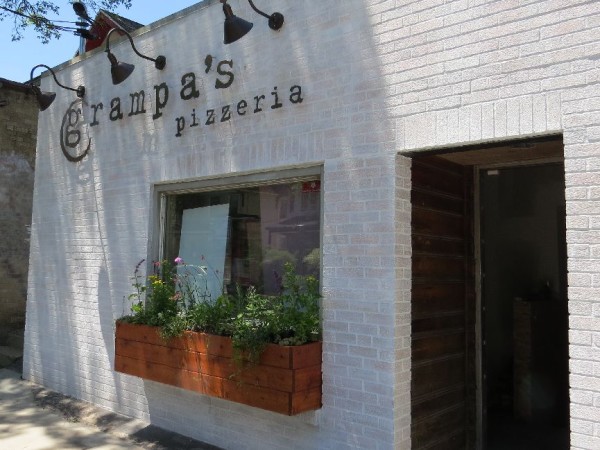 With the opening of Grampa's Pizzeria only weeks away Owner and Chef Gilbert Altschul is focusing on the final details. The building, which was formerly Grandpa's Gun Shop, has undergone quite the transformation in the past few months. Fresh drywall adorns every flat surface, newly stained cedar siding gives the building fresh pop, and an arty sculpture-like metal sign hangs above the front window which features a large flower box overflowing with fresh greenery.
The day I visited for an update, the din of construction was emanating from the restaurant, and I found Gilbert and Bar Manager Josh Swentzel in the backyard conducting an interview with a potential waitress.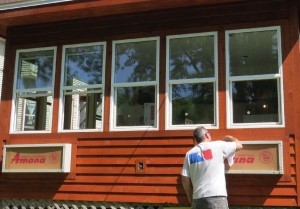 Inside, a single-stage dish washing machine is the first installation in the kitchen and aroused nostalgic memories for this author of teen-era dish jobs at the O'l Brick Inn (now Glass Nickel Pizza), The Jet Room, and The Madison Club.
At the time we talked, Altschul was anticipating the arrival of his pizza oven and stove.
"I feel great about how it's going. The neighborhood has been really supportive and there is a lot of positive energy surrounding the place," Altschul said.
Altschul enlisted the help of his girlfriend Marissa Johnson to lead the design of the restaurant. Johnson is also managing partner of Grampa's. The various eating spaces are taking shape with the bar-area installed and awaiting a copper veneer.
In the backyard, Gilbert points to a short section of 4×4 landscaping beams nailed together as a test-run for a large table in the front room that will feature communal seating that also will be available for lunch and dinner meetings.
As we talk, Altschul goes over soda selections with Swentzel, which will feature familiar favorites and some gourmet options as well. Pizza delivery has become a casualty of the start-up process, but Gilbert hopes to maybe revisit this in the winter when walking to eat becomes a less desirable option. Grampa's is intended as a late-night dining option on Willy Street and will be open every night from 5 p.m. til 2 a.m. and 3 a.m on weekends.
Grampa's will open on July 9.
Related: Grampa's is open late
Related: MCBW: Potato Maibock and The Mickey Brat