Three design variations to be presented this week at special P&D meeting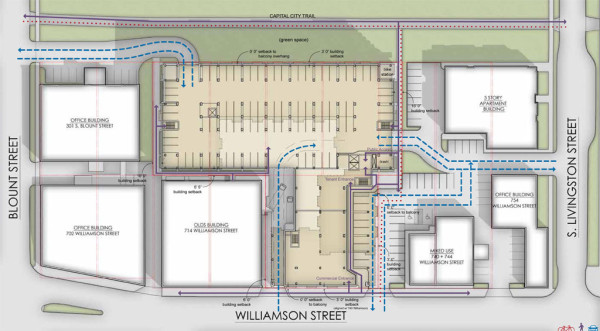 MNA's Preservation & Development Committee will hold their monthly meeting at a special time on Wednesday October 23 to view proposed changes to the 722 Williamson development. The 722 Williamson Subcommittee of P&D has met several times with the project developers, Baldwin Development Group, and committee chairman Bruce Woods reports that BDG will present several changes based on neighborhood input.
In an email to Willy Street Blog, Woods said that BDG has "made many changes to their original design for the building and will be presenting three variations at the next Preservation & Development Committee this Wednesday, October 23 at 4:30pm."
The meeting will be held in Curt Brink's design center in the Mautz building at 945 East Washington Avenue with the first half hour of the meeting consisting of an open house for viewing of the three design options. BDG will then make a presentation and then seek feedback from the attendees.
Agenda is below:
4:30-5:00: Open house, to look at versions of proposal which are posted on the walls.
5:00 to 6:30: Bruce Woods will briefly review the 722 Williamson Subcommittee meetings, then the developers will present their proposal and the thinking behind it. Discussion follows.
6:30: Adjourn