Masked Ball for adults and kids joins french, cajun and blues music festival
La Fête de Marquette, the French-infused neighborhood celebration of music and culture that raises money for the Wil-Mar Neighborhood Center is returning to a familiar but much improved place. Central Park was officially opened this year and La Fête will be the first festival to be held after long delayed plans to develop the space as a park were finally realized.
The first two festivals were held to promote the idea of Central Park and were located on the grounds of the current park. For seven years the festival has grown and matured while it dwelled at the corner of Dickinson and Main Streets. This year features a vast and inspired mix of events including one named Big Top, which suggests the return to a larger space is just in time.
It seems as though the new space has emboldened the organizers to stretch the usual boundaries of the festival, even stoking some early buzz by scheduling a warm-up show at Crystal Corner Bar this past Sunday.
Thursday (July 10) La Fête begins in earnest with the annual Willy Street Co-op membership meeting.
Aside from reporting yearly numbers, it will be interesting to hear how Co-op management will respond to calls by some owners to boycott one of their vendors over the recent Supreme Court ruling regarding contraception availability at privately held for-profit corporations.
French, blues and Cajun music will rule the main stage each night. Louisiana day is Saturday with a taste of the bayou Thursday night. A mostly French-Canadian invasion will takeover on Friday night while Sunday is reserved for world music and the popular Acoustic Lunch.
The Big Top masquerade
Similar to the Willy Street Fair, each year organizers have partnered with local and national DJs to schedule an electronic dance festival within La Fête. Held in the Le Bistro tent, the themed events have grown in popularity as often the tent is teeming with people; writhing to some of the best electronic dance and disco music around.
But this year seems special as the Wil-Mar Board developed the idea to have a masked ball for adults during La Fête.
They found the perfect partner in Mallat's Pharmacy, purveyors of medicine and costumes, who agreed to sponsor Big Top both Friday and Saturday nights
On Friday, Big Top – Discoteque Night drops the beat at 5 p.m. with Maura Dillon followed by a strong lineup of DJs capped off by Mark Farina.
Saturday is a day of electronic dance fun as DJ Nick Nice transforms his wildly popular Kid Disco event to the Kids Masked Ball beginning at 3 p.m.
"I'll be playing lots of disco & club classics." Nick Nice said in a Facebook chat message as he was in the midst of concluding a multi-week sojourn to France.
At 4:30 pm. local heroes Mama Digdowns Brass Band, who last year at La Fête celebrated their 20th year as a band, will lead the Kids Masked Ball Parade.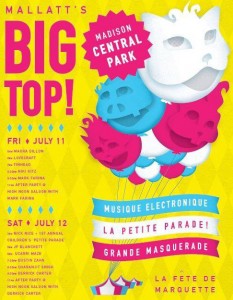 JP Blanchet will keep the music flowing as the adults arrive for the Masked Ball beginning at 7 p.m. The evening bill is an incredible lineup of club music DJs finishing with Chicago house legend Derrick Carter.
The La Fête Big Top events are free, but those with some moves left can join the after party at the High Noon Saloon.
Artist and coffee proprietor Lynn Lee along and Beatrice Hadidian are creating what Lee called "over the top" decorations.
While Mallat's will have masks for sale on site, Lee recommends attendees shop at Mallat's ahead of time for a wider selection.
See the complete La Fête de Marquette schedule here