Forestry to replace some, but not all, with shorter, power line-friendly trees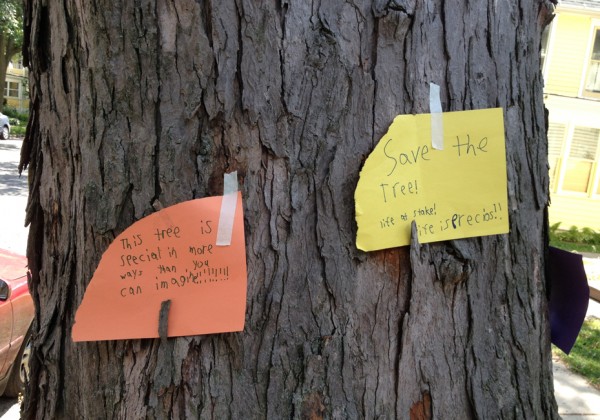 The glorious leafy canopy that arches majestically over Jenifer Street is unlikely to return after a large street reconstruction this year. A city-wide policy of replacing trees with a species that will top-out below power lines will likely have a huge impact on the character and aesthetic of the neighborhood.
The City of Madison Forestry Division will remove approximately one-third of the trees along Jenifer between Spaight and Few Streets, mostly in an effort to protect against the Emerald Ash Borer.
"There is no way to reproduce the amount of canopy that will be lost, many of the ash preemptive removals are located under high voltage power lines," Madison Parks Community Services Manager Dawn Grosdidier wrote in an email to Willy Street Blog. For these sites we will be replanting smaller, power line compatible tree species which is our standard practice across the city."
An informal survey and analysis of the city tree map by Willy Street Blog shows that the vast majority of trees along Jenifer, Few, Brearly and Paterson Streets in the reconstruction zone are either Green, White, or European Ash with a few other species such as Walnut, Ironwood and Honeylocust 'Skyline'.
The map does not show which trees will be removed but does show a total of 143 tree locations in the zone, 11 of which are stumps or are vacant.
Of the 132 trees in the zone the City has selected 43 for removal. Forty-one will be preemptive ash removals, one is due to it's condition and one is because of an illegal planting.
The City selects ash trees preemptively for removal if they are located under high voltage power lines and may have been pruned back for wire clearance in the past. Ash trees that are only under telephone and cable lines and are over 10 inches in diameter will be chemically treated instead of removal. See the City of Madison FAQ for more information on how trees are selected.
Twenty-nine Ash trees are located on Jenifer and 14 are located on the other side streets named in the construction. The trees will be removed during the reconstruction and replanting will take place during the 2016 planting season. WSB is working to confirm how many trees on each street will be removed.
After the reconstruction project is complete Forestry will asses the terraces, which are city owned, before determining how many replacement trees will be planted. Additionally, while some trees will be replanted in the same locations, some may be replanted in a new spot. Grosdidier did not indicate the exact species but did say they would be 1.5 inch caliper planting stock.
The City uses the Right Tree, Right Place philosophy when choosing tree plantings. Additionally, Madison Gas & Electric suggest in their residential planting guide to home owners that tree species near power lines reach no higher approximately 25 feet.
Marquette Neighborhood Association Board Member and Traffic Committee Chairwoman Anne Walker noted in our earlier story about the reconstruction that the replacement trees are both shorter and have a direct impact on residential homes.
"The last time that we were planting underneath the power lines the rules were different," Walker said. "Now you are only supposed to be able to put in what we call the little dinkies or the Q-tip trees. But then we lose canopy trees. It's not great if you are trying to cool your house."
Marquette Neighborhood Association Board Member John Coleman knows directly what the loss of tree canopy can do. For 15 years a large Norway Maple located on the terrace shaded their Dickinson Street home. That tree, which is now gone, along with those of his neighbors meant that they could cool their house in summer on fans alone.
"After a couple years of denial, we finally bought a window air conditioner for one of the rooms so that we can retreat from the heat on particularly hot days.  That a tree is a "natural air conditioner" sounded trite, until we had to live without one, "Coleman said.
While Coleman(read his tree testimonial here) has planted a fast-growing replacement that might someday provide more natural shade, his neighbor has an Ash tree on their terrace that is also marked for replacement which he says means another air conditioner may be in the offing.
The power of the underground
One path to save the tree canopy is to run utility lines underground since reconstruction is the best and most cost-effective time to put such infrastructure in place.
In 2011 the City of Madison adopted a policy on the "undergrounding" of utility lines and much of it has to do with funding and location. [h/t Alder Marsha Rummel]
If the City allows undergrounding, funding must be available however they will not use general obligation borrowing, but instead use Tax Incremental Financing (TIF). The project must be on an arterial or collector street under which Jenifer qualifies, but it lacks "properties abutting the street are commercial or the abutting properties consists of a mix of uses and has a substantial amount of commercial development", according to the policy.
Additionally, much of the funding must come from private sources. Other ways a street could qualify is if a certain percentage of properties are ready to receive underground power or enough utility poles have been removed. In it's policy overview, the City noted that above ground utility infrastructure can cost from $30,000 to $100,000 per 100 feet but did not give a cost estimate for underground power only stating that it is significantly more.
Madison Gas and Electric spokesperson Steve Schultz says that at a minimum putting utilities underground is roughly two times as expensive as the above ground cost. He adds that the utility is deeply involved in the planning with the City during major street reconstructions and then will perform the actual installation or use contract crews.
"It would be something where the City would come to us and say 'We've got this project, we're are looking at the benefits of going underground for this section versus' and their would certainly be a dialog and we'd work together on that," Schultz said.
After City officials faced numerous questions at the first public meeting about the project earlier this month about the scope of the reconstruction, tree removal, bus stop changes and construction equipment use; a second meeting is scheduled for Wednesday January 21 at 6 p.m. in Wil-Mar Neighborhood Center which will again be attended by the City representatives.
Formal questions submitted by MNA to the City as a result of the first public information meeting can be seen below.
MNA Jenifer Reconstruction Questions
Related: Jenifer Reconstruction Prompts Second Public Meeting, More Questions
Related: Dramatic Changes Coming to Jenifer Street