East High football home games return to Breese Stevens Field after 41 year hiatus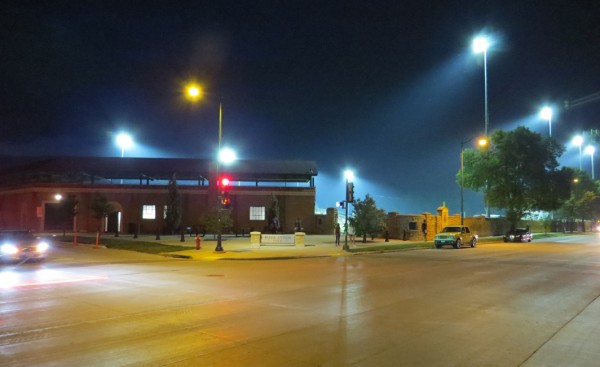 On a pleasant Saturday evening earlier this month the Madison East High School football team was warming up on the gleaming year-old artificial turf of Breese Stevens Field. It was a first look not only for the players, but the coaches, boosters and fans as East has not had it's own home field since it played it's last home game in 1974.
For Quarterback Ruben Arndt, the lines on the field and the dimensions may be the same from last year when East played at Lussier Stadium, but this year will be different because the Purgolders are coming home when they host Madison West, the last team they played in this stadium 41 years ago.
"It's really special to be back here…for the school. I remember as a kid I'd always go to Lussier [stadium] and watch my brother. It was always fun seeing the team but it never really felt like home…because we were out in front of Lafollette." Arndt said during a break from drills.
"This really feels like home, right here a couple blocks from the high school and it's old, it's dusty and it's great."
My earthly existence began in Madison in 1973 and my home was perched atop the Third Lake Ridge a few blocks east of Breese. Many evenings during the warm weather months our street was illuminated by the lights of the stadium and you could hear the cheering and  occasional muffled pronouncements from the public address system.
I remember one evening while watching a Madison Scouts drum corps competition from the bleachers section, I wandered over to the covered grandstand area where no one was sitting. I looked down into one of the stairwells that led to the street, the rolling gate was closed and trash, dirt and pigeon feathers were piled up at the bottom.
At that moment, and many after that upon gazing at Breese Stevens Field, I wondered what it was like in it's heydey, with 4,500 people in the stands, ardently screaming for their side. After a time, I also wondered, as a student and now alumni of East (1991), why we did not play at his stadium. Why, we people of Wisconsin, who bow with holy reverence to the shrine of professional football, Lambeau Field, are not utilizing, for football glory, a jewel only blocks from our dwellings.
Old and dusty, as Quarterback and Jazz Piano and Vocalist Ruben Arndt described it, is how Breese Stevens could be described as for many years.
The push for a city athletic facility began in 1922 and even then there was a naming rights controversy according to Wikipedia. Breese J. Stevens was a New Yorker who looked after his family's land interests here in Wisconsin in the late 1800s and eventually served as Madison's mayor.
Judge Burr Jones, in an effort to help with fundraising for the field offered to sell land a block away on Livingston street he had previously donated to the city as a playground. But the sale could only happen on condition that the new field be named after him. In 1923 the City council focused on 18 lots of land, the location of the current site, because it was halfway between Central High School and East, which had opened just the year before.
Breese's widow agreed to sell the land but the stadium needed to be named for her late husband and the rest is history. The brick stadium with covered grandstand, completed in 1926, is a Mediterranean Revival style and supposedly is the oldest extant masonry grandstand in Wisconsin. The walled portion of the stadium was completed in 1934 using stone from Hoyt Park along with the concrete bleachers that extend the length of Mifflin Street.
The first baseball game was held in 1930 which made such an impression that stadium lights were installed the next year and Breese became the only lighted athletic field in Madison until the mid-1960s.
Over the many decades those lights have illuminated many events such as circuses, midget car racing, ice skating, track and field, boxing and wrestling events as well as numerous semi-pro athletic baseball, football and soccer teams. The field is an official city, state and national landmark.
The state high school girls soccer tournament was yearly fixture in the 1980s and 90s. Now it's most prominent resident team is perennial national power house Madison Radicals of the American Ultimate Disc League.
After warm ups during that recent scrimmage were complete, 4th-year coach Steve Erato called his players over to get some instructions from the referees that would be monitoring their play. The players gathered around Terry King who opened his remarks with a little history about his own experiences at East and Breese.
"In 1974 we beat Madison West here 28-21, the last game Madison East played at Breese Stevens Field. I was 18 years old, my hair was down to my shoulders almost back then, but it was one of the most terrific experiences I ever had." King (Class of 1974) later told me. "When I found out we were coming here…chills came down my spine knowing we were going to ref again at Breese Stevens Field."
Since 1974, watching East football games has not been the best fan experience. For many years they shared a home stadium with Lafollette at Warner Park.
That facility was pretty bare bones, with glorified bleachers and a cramped press box.
As a student I attended games and also was a camera operator for the local school district cable channel. Sometimes football games are just that, but the ambiance was definitely not there.
Things did not improve much when Lussier Stadium was opened on the grounds of Lafollette High School. While newer, it still had he same feel as a municipal afterthought; another cost-saving measure by the school district. As Reuben Arndt put it, "…it never really felt like home…because we were out in front of Lafollette."
In recent years, the City of Madison, which owns Breese, has taken a full-throttle interest in the Capitol East corridor and has tasked huge resources for it's revitalization. Part of this revitalization involved Breese Stevens which had fallen into disrepair. The City has invested millions in it's renovation in several stages, the last being new turf, locker rooms, a new press box and public address system.
Madison West (light) vs. Madison East (dark) at Breese Stevens Field, October 22, 1965.
In 2013 the Constellation opened on the 700 block of East Washington Avenue. Last fall ground was broken on the 12-story Galaxie building, across Patterson Street from Breese, which will bring apartments, commercial space and a full service grocery, Festival Foods. The East Side connections through these many blocks are long and deep as Otto Gebhardt the owner and developer of both Constellation and Galaxie attended East
When the City was seeking proposals for the 800 block, one requirement was for developers to incorporate Breese into their plans when designing their building.
Maybe in an unintended cosmic connection with Lambeau Field, Green Bay-based Festival Foods will open in early December with Paul Anderson, East Class of 1975, as store manager.
"I played at East from '73 to '75, I was pretty much a bench warmer on the varsity," Anderson said with a chuckle. "It was a beautiful place to play…it was brick and historic and just gorgeous."
Anderson's last game he remembers playing was against Madison Edgewood and then graduated the following spring. He then played summer baseball at Breese for a few seasons afterwards in a men's league. He also remembers they had to dress at the high school because the locker rooms were in poor condition.
Anderson says Festival Foods is looking to be involved in East Athletics by helping with fundraising. He says some of the current school staff are from his graduating class.
"Being an alumni and all, us old Purgolders are still Purgolders and proud of our school," Anderson said.
After talking with the area neighborhood associations, Anderson says Festival is excited to be a part of the rebirth. "An area that kind of became blighted when all the auto dealers left is really now starting to turn into a neighborhood". Anderson said.
For Steve Erato, he hopes the historic venue will help his team build on the rising success of last season.
"Last year we approached this with [sic] the City was going to do this and there were talks that we'd probably be there and the community started getting a buzz about it, Erato said.
"We talk to our kids all the time about the people that came before you…all those teams that played here in the past. I think it is just a great honor to be on the same field as them…we're ready to go, we're excited."
East High's boosters are really excited too. after the team tested out the inflatable tunnel at the scrimmage, they seem ready to go as I noticed small Purgolder flourishes around the stadium during the scrimmage. No doubt it will be much easier to decorate now that East has a home again.
Through their tireless promoting of East Athletics on their Facebook page, the boosters have created the "Back to Breese" event to mobilize fans. Even though parking is going to be quite the challenge, the possibility of tailgating returning to the area has people excited.
The modified form of this will first take place a block away Star Bar (owned by 1991 alum Hawk Sullivan) with pregame events from 4-6 p.m. More pregame events begin at 5 p.m. on the patio at Breese with music by the Ron Denson Band.
At 7 p.m. East and West high schools will renew their rivalry crosstown at historic Breese Stevens Field. I can't wait to see the lights illuminate the homes of the Third Lake ridge and hear the strains of EASTSIDE! EASTSIDE!