McGrath Property Group proposes lofts and a new 5-story building along bike path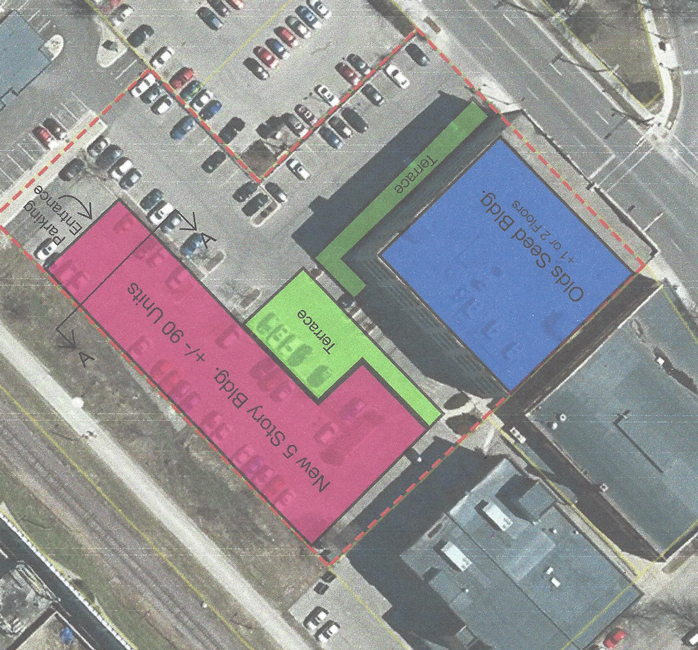 The McGrath Property Group is trying where The Baldwin Group has failed, to redevelop on the north side of the 700 block of Willy Street. In a letter sent to District 6 Alder Marsha Rummel, McGRath Principal Lance McGrath said that his company has accepted an offer to purchase 714-722 Williamson Street which includes the Morris Paper/Olds Seed building and the adjacent parking lot.
McGrath plans to turn the Olds building into 40-50 "Concrete Lofts" featuring 11-foot ceilings, exposed duct work and brick walls along with large windows; all the features which McGrath says will be unique to Madison. The first floor will likely feature commercial/retail use and they plan to add one or two levels to the building in pursuit of the loft concept.
In addition conversion of the current structure, McGrath proposes to build a five-story building running east-west abutting the Capital City Trail bike path on the north side of the current parking lot. This building will feature 80-90 units with parking at the ground floor and one level underground.
While McGrath says they are still very early in their site evaluation process, they hope to submit a proposal to the City of Madison by early February with an occupancy date of May 2017. CaS4 Architecture and Ken Saiki Design have also signed onto the project which will also have to deal with the cost of remediation due to environmental contamination at the site.
The environmental remediation was just one of many land mines that sank The Baldwin Group's bold, aggressive proposal in 2013 to build a mixed-use development on the footprint of the current parking lot. Painstaking tussles and collaboration with Marquette neighborhood residents and entities yielded lots of changes to the original proposal which called for a 10-story tower where McGrath proposes to build one half that size.
Read: Willy Better Urban Infill Development (BUILD) plan
In the end, despite reducing the scope and size of the project to appease a large share of the neighborhood that insisted the project adhere closer to the Better Urban Infill Development (BUILD) Program II; the TIF ask was more than what was available in the current district and the project has been on indefinite hold since August 2014.
McGrath may not have many of those issues since the proposed new structure will rest in Zone IV of the BUILD plan which allows for a five story building. In the letter to Marsha Rummel, McGrath only released one overhead view of the footprint of the proposed project.
As with several other projects in the neighborhood, support will likely require an exceptional design that blends with the historic working class style of single family homes and buildings in the Visually Relatable Area and beyond.
Marsha Rummel tells Willy Street Blog plans are being finalized to hold a public meeting on the project January 7.
Read: McGrath Letter to Marsh Rummel
Related: Joint Neighborhood Advisory Committee Formed to Press City and Developer on Marling Site
Related: Demolition By Neglect
Related: Articulating Compromise As Clock Ticks
Related: 722 Willy Developers to Present Project Changes
Related: 722 Willy Working Group Outlines Concerns