Poberezny perfected crowdsourcing for aircraft homebuilders before it was cool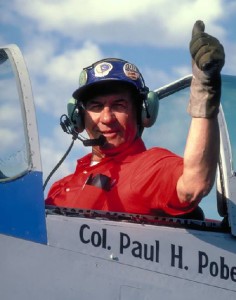 The man who built a whole movement around aircraft homebuilding and recreational flying as the founder of the Experimental Aircraft Association, Paul Poberezny, died this morning (August 22) in Oshkosh.
For Aviation, Poberezny came along at just the right time. It was January 1953 and the post-war boom was in full swing as the United States was in the final months of its hot war with North Korea. There was a glut of World War Two pilots and more would be coming home soon from Asia.
Aircraft makers like Piper and Cessna were doing a brisk business, putting pilots in small aircraft, but not everyone could afford the equivalent of a luxury car. Poberezny saw this and found a way for the tinkerer generation to discover flying in a most accessible and affordable way; build the airplane yourself.
Paul Poberezny was born in 1921 and was intrigued by aviation his entire life. He flew his first airplane, a 1928 Waco Glider, at age 16 and never looked back. He served in World War II and Korea flying many different aircraft both on the line and as a test pilot. He retired as a Lieutenant Colonel after a 30 year career, serving part of that time in the Wisconsin Air National Guard. Many of the aircraft Poberezny flew are mounted on stanchions around the grounds of the EAA Headquarters in Oshkosh.
The EAA began in 1953, founded by Poberezny and a few other enthusiasts in the suburbs of Milwaukee. The word "Experimental" in the organization's name is for the category the FAA assigns to amateur-built aircraft because they are not assembled through a certified production process.
EAA members often say that the Wright Flyer (the first powered aircraft to fly) was a homebuilt; and the foundation of our aviation system today is built on those who have designed and flown their own creations. Poberezny worked hard to take that ingenuity and passion and share it as far and wide as possible.
Dream Build Fly: Aircraft building through crowdsourcing of knowledge
You could say that Paul Poberezny developed crowdsourcing long before the internet. What once was a loose network of homebuilders sharing ideas has grown to an entire aviation sector where a person with a few basic skills can buy a kit or just a set of paper plans, and build an aircraft.
The neophyte builder would have all the support they would need either through a local chapter, one nearby, or from the organization itself which would offer builder support right over the phone. EAA also was the clearinghouse for ideas and skills through its highly informative and inspirational monthly magazine Sport Aviation. The organization would later build up its advocacy efforts, lobbying governmental entities at all levels in the name of the everyflyer.
EAA partnered closely with government and industry to develop guidelines over the decades that have created a framework of standards and practices that allow individuals the freedom to innovate while creating aircraft that are built to very similar standards of production aircraft.
A typical story of Paul's philosophy on shared success is through the experience of Oshkosh area EAA member Caleb Ihrig and his building partner Brady Lane (who is an EAA employee). The two building novices set out in 2010 to build a Bearhawk from plans using basic tools. One additional wrinkle was weekly internet video broadcasts of their building sessions from Ihrig's basement where most building projects begin.
One night last year the two men took the build session on the road to an EAA hangar to use a metal bending machine and Poberezny dropped by unannounced.
"Brady, said something like 'We're so thankful that EAA is letting us use THEIR equipment.' Ihrig recalled. "Paul, with a quizzical look on his face, simply replied 'THEIRs?…. OURS.' That simple statement fully conveyed Paul's view of the organization."
Paul Poberezny knew that it was the people that made the difference and created an organization that used the exchange of ideas and comaraderie to grow the organization to over 170,000 members with nearly 1,000 chapters worldwide. That togetherness and "family-oriented" approach to aviation is best represented in AirVenture, the EAA's annual fly-in and convention.
The gathering is unmatched in the world for diversity of aircraft and accessibility for everyone, not just the well-connected few. The wild and perpetual success of this event is the embodiment of what Poberezny hoped to create.
Paul Howard Poberezny is survived by his wife Audrey, his two children Bonnie, and Tom, who served as President and Chairman of the EAA from 1989 until 2011, as well as two grandchildren and one great-grandchild.
Paul Poberezny was 91.
Read more about Paul Poberezny at EAA's website in their commemorative section
Related: Flying Fun: Wisconsin's Best Export
Related: Historic Woman And Aircraft Lands in Madison
Related: The Whole World is Flying to Oshkosh

Related: History Takes Flight
Related: I'm a Sun 'n Fun Virgin

Related: Its Always Sunny in Florida

Related: Hump Day at SNF…The Lost Post

Related: One if by Land, Two if by iPad