Event raises fund for two $500 scholarships for East High Students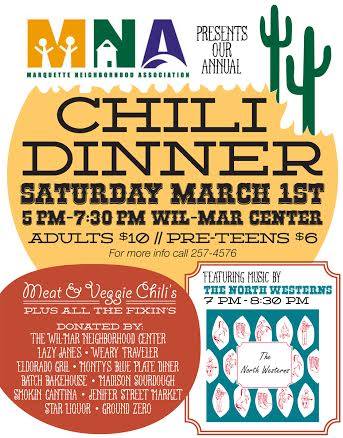 The 23rd annual Marquette Neighborhood Association's Chili Dinner to fund scholarships for East High School students is tonight (March 1) at the Wil-Mar Neighborhood Center, 953 Jenifer Street.
A selection of veggie and meat chili , side dishes, desserts and beverages will be served for $10 ($6 for pre-teens) as you enjoy music from The Northwesterns.
This popular event brings out some of the best culinary creations from neighborhood and area restaurants such as Lazy Jane's, The Weary Traveler, Smokin' Cantina, Madison Sourdough, Eldorado Grill, The Batch Bakehouse and Monty's Blue Plate Diner. Additional groceries provided by Jenifer St Market and coffee from Ground Zero will be served beginning at 5 p.m.
The Marquette Neighborhood Peat-Piper Scholarships honor friends Becky Peat and Margaret "Burkie" Piper, who were sophomores at Madison East High School in October 1991, when they were killed as they crossed East Washington Avenue in front of the school.
In the years following the crash the Peat-Piper Memorial Scholarship fund was set up to award $500 each year to graduating Madison East High students that reside in the Marquette neighborhood.
Learn more about the Peat-Piper Memorial Scholarship here